I can't believe it is nearly 2 weeks since the bike ride finished, last night was the first night I slept without leg pain and woke up pain-free. It's surprising how much you can put the body through if you are stupid!
So, after a 13-hour flight, a couple of hours layover in Singapore and another 2-and-a-half-hour flight to Ho Chi Minh City we arrive at our hotel still awake and before dinner head for our bike fitting (P2). Feeling tired while waiting for my peddles and saddle being fitted to the bike the heat (40C) reminds me of the enormity of what I am about to take part in.
I can't cover 8 days in a short blog so will give you some random snippets of the trip.
The people in the countryside in both countries were very poor but everyone was friendly and happy.  Everyone was so warm and welcoming. The children, despite the poor living conditions, were all smiles and happy (and I did see a number wearing Spurs shirts!)
The days always started early 5:30 to 6:00 with a very early breakfast, but we never seemed to get going before 8 am. I guess that was due to the size of the group, 50 cyclists.
The days consisted of water stops, snack stops with plenty of banana dragon fruit and sometimes red mango crisps for salt and chocolate biscuits. Lunch would be a soup usually followed by rice and chicken, or sometimes prawns. Then a water and snack stop before the finish.
Usually, we did not have much time to grab a beer before the evening briefing at 6:30 with dinner at 7 pm (dinner being similar to lunch). Then often drinks in the bar until late.
Believe it or not, I was not the only old git on the ride, with 4 over 70 year olds, though I was the oldest! The Friday was also my Birthday so in the bar late at night I received my first birthday cake. The group were amazing friendly and encouraging but the thing that stands out above everything was their love, support and commitment to the Marie Curie charity. Raising money for the, not just on this challenge but on past events and already planning future challenges.
Along the way, I had the privilege of cycling and spending time with doctors, nurses, carers, supporters and staff from Marie Curie. They are truly inspirational.
So, if you have not sponsored me and if you would like to support the amazing work the charity does, day in and day out, click here and help make a difference to someones last days (I am sure you will have seen the appeal for help on TV that gives a snapshot of the amazing work this charity does).
I didn't take many pictures as my phone was connected to Strava all day and my GoPro ran out of memory.  So, I have included a few photos below of me on the ride just to prove I was there.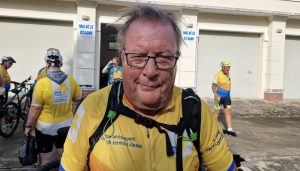 Day 2 still looking fresh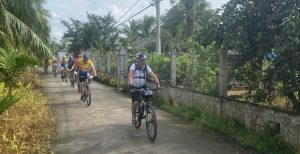 On route to Cambodia